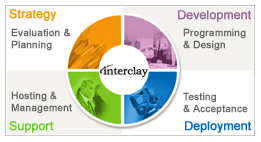 In today's global marketplace businesses face both growth and consolidation, thus requiring an ever-changing information technology landscape. As a premier provider of information technology solutions, Interclay offers a diverse and comprehensive range of services to businesses nationwide. The Interclay philosophy empowers customers with a combination of application development, training, mentoring, testing, and consulting services to ensure immediate and long-term success.
Through a focused commitment to success, Interclay's responsiveness and ability to deliver superior systems on schedule and within budget is the driving force that separates them from other information technology solution providers. Interclay clientele recognize the value of strategic application development solutions, accounting for high levels of repeat business. Privately held with consistent profitability, Interclay is headquartered in the Northern Illinois Area.
Interclay's unique ability to adapt to client integration needs between legacy and mainstream solutions has positioned the company as a valuable information technology resource. Since the company possesses this adaptability in technology Interclay has been able to service a variety of industries including technology, agricultural, medical, manufacturing, and human health services.